What is OneEleven?
Since its founding in 2013, OneEleven has become the premier innovation hub for post-seed tech companies in Canada to grow and scale. We've had the good fortune to call companies such as Wealthsimple, Clio, Koho, Borrowell, Maple, Properly, and Tulip our members.
Our organization's cultivation of a community, housed together in one turnkey downtown Toronto facility, was the first of its kind focused on post-seed companies in Canada, building on the philosophy of late entrepreneur Tony Hsieh, who believed in unleashing the power of community collisions. 
But two factors — the COVID-19 pandemic, and Toronto's maturation as a global tech hub — meant that OneEleven had to do more, and provide a new kind of value to rapidly scaling companies.
When COVID-19 temporarily halted our ability to use our state-of-the-art space, we pivoted our focus to building a new, unique, and attributable value-added programming curriculum, custom built to help Canada's fastest growing companies. Through discussions with our members, alumni, and ecosystem partners, we learned not only where we could fill an underserved need, but also discovered a critical truth about Toronto's tech scene: that its exponential jobs growth over the past few years pre-COVID made our city's talent pool analogous to an 8-month old puppy dog: strong, fast, and smart, but struggling to work through an awkward phase of growth and with limbs a bit too long for its body! In short, an ideal time for bespoke training supports.
We discovered that a critical challenge faced by our member companies, and post-seed companies writ large, centers around upskilling of emerging leaders. With company headcounts expanding quickly at the post-seed stage, many entrepreneurs expressed a desire for bespoke support for the strong individual contributors on their teams — in key areas such as marketing, customer support, and product — to ensure they have the training necessary to become equally strong team leaders and people managers.
The data bears out what we discovered organically: According to CBRE's
2021 Scoring Tech Talent report
, Toronto's tech talent pool has experienced the fastest growth (~43%) between 2015 and 2020 compared to any other large tech market in North America. The city boasts a tech talent pool of over 270,000, ranking it third overall next to San Francisco Bay and New York. This rapid growth of tech jobs in Toronto makes it the ideal moment for OneEleven to add a curriculumized programming offering focused on upskilling of emerging people managers.
How does OneEleven's upskilling programming work?
A recent review of the global accelerator landscape by Venture for Canada reveals that only 6% of all global accelerators and satellite programs are focused on offering support directly targeted to non-founders or managers/rising leaders at technology scaleup companies. This is where OneEleven focuses.
We've built a first-of-its-kind-in-Canada program around talent upskilling for non-founders, in the form of curriculum-based learning, to add to our traditional strengths of building a highly-curated peer network, and on-demand services co-located at our reopened collision space.
Working with the talent experts at Venture for Canada, we've designed a curriculum, built partnerships with external experts, and are delivering training support to emerging leaders at our member companies, in three areas: marketing, customer success, and product. 
When founders gain entry at OneEleven, they know that they'll not only gain physical entry into a well-curated community of fast-growing companies, but they will also
get the most out of their key team members
, and that their team leaders will be upskilled as quickly as their company is scaling.
What can member companies expect when they join OneEleven?
24/7 access to turnkey facilities and a state of the art office space located in the heart of downtown Toronto

Unparalleled access to a highly-curated peer network of vetted fellow members and alumni, investment capital, best-in-class partners, on-demand services, and strategic support designed specifically to help you navigate periods of rapid growth

Curriculumized talent development supports designed specifically to upskill core (non-executive) team leaders and people managers

Bespoke programming, masterclasses, and mentorship programs for employees at all levels
What are our members saying about OneEleven's upskilling programming?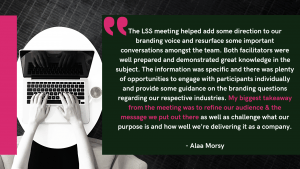 OneEleven is accepting member applications on an ongoing basis. Eligible founders can apply here.
About OneEleven
OneEleven is a highly curated community where tech startups become scaleups. We focus on helping post-seed companies get the most out of their talent, by providing bespoke programing to ensure that emerging team leaders and people managers are growing and learning, as fast as their companies are scaling. 

Our mission is to enable Canada's leading high-growth scaleups to relentlessly focus on value creation and business growth, by helping nurture and develop their growing leaders.

Our vision is to bring together Canada's best technology entrepreneurs to provide them with the resources they need to build globally competitive companies.
Other articles